Krita 4.2.1 + Portable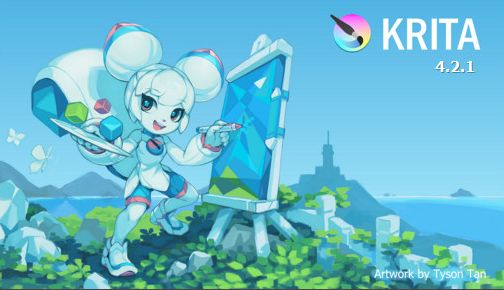 Krita 4.2.1 + Portable | 940MB
Krita is a graphical application that adapts to your requirements - it gives you a full-featured desktop on a computer, and a streamlined, user-friendly touch interface on a tablet or large screen! All users will enjoy a range of realistic and experimental brushes. Professional artists will enjoy fast, high-quality rendering options and support for various color profiles. Krita is used by both amateur and professional artists in game studios, in VFX industries and design studios. Artists use innovative brushes and an intuitive interface to create concept art, texture and matte paintings, illustrations, storyboards and more. The editor supports multi-layer image processing,
Additional Information:
Krita supports multi-layer image processing.
A wide selection of brushes (including mixing, filtering, effective, spray, brushes to fill the volume).
A large number of blend modes.
Tools for drawing HDR images.
Ability to work with multiple images.
A large set of tools for digital painting, creating sketches and the formation of textures.
Manage the dynamics of brushes using a graphics tablet.
Cage tool for plastic deformation across the cell enclosing an object
You can simultaneously open options with different zoom levels.
Imitation of paper and pastels.
Pseudo-endless canvas. Rotate and mirror the canvas.
Support popular OpenRaster format.
Tools for working with different color models.
The ability to determine the time presets brushes.
Instrument for plastic deformation on the framing cell.
Ability to select transparent channels in separate transparency masks.
Ability to create 3D-textures and images.
Work with groups of layers is possible.
Tool for changing the perspective of the layer - Perspective.
Improved support for 16-bit multi-layer files.
Ability to import RAW-files.
Export to PSD vector layers.
Changes in version 4.2.1:
Fixed: Allow changing the layer name to set the document as changed
Fixed: allow cancellation when changing layer names
Fixed: update the cancellation limit if we change it
Fixed: handling notifications about changed documents in the sub-window mode
Fixed: do not display warning about switching language when returning to default settings
Fixed: problems with displaying gradient map colors
Fixed: improving layout and displaying levels for histogram filter
Improvement: adding Leno warning when adding a shape to a clone layer
Usability: Make the default background for the text editor white for readability
Fixed: activating the working FFTW convolutioner
Fixed: crashing in the halftone filter
Fixed: removing the notification of an unused short-length keyboard for transfer
Fixed: safe approval triggered while drawing
Improved: better handle calculations for grayscale images with great color depth
Ease of use: creating tabs, headers, tables and text to be translated
Improvement: Make constant zoom mode when navigating through screens
Fixed: e sport animation frames in EXR format
Improved: loading damaged files, TGA-alpha with incorrect data
the Python: allow the selection of limiting borders for export
Fixed: it was impossible to set the minimum hue selector
Improvement: added pixel-to-canvas binding mode
Fixed: loading pre-Krita 4.0 transforming masks
Fixed: TIFF export filter smoothes images using group layers
Fixed: do not activate an already running instance of the application during export image sequences
Fixed: memory leak with GIF files while saving and line length
Improvement: improved SVG document size calculation and loading of missing commands
Convenience of use Use: hide the sample fill parameter in vector tools until it is fully implemented
Fixed: Artifacts when saving vector layers in PNG format
Fixed: crash when merging back-separated alpha functions
Fixed: address failures (ASAN) when creating a guide
Fixed: difficult to choose color in vector objects
Fixed: canceling merged cloned layer
Improvement: fractional scaling of DPI was added (found in settings)
Improvement: Allow brush clones to reset the origin after each impact
Fixed: Canvas input cursor is updated when it has no input focus
Fixed: error when using a wheel on a Wacom tablet
Bug leno: brush clone should use the last layer on which the source was placed
Fixed: fix tilt curve
Fixed: do not focus on editing the tag search string in a show event
Usability: show the outline and texture of layer styles only when checking Bevel and Emboss
Python: improvements in the Comics plugin for saving files and creating documents
Fixed: fixing a pop-up palette when changing Themes
Usability: Improved checkpoint size for curves in the brush editor
Addition: Add an option in the settings to disable AVX optimizations in Windows
Fixed: Font size matching (error 406386)
Fixed: it is impossible to select a new view item with long OSX names
Usability: fixes theme changes for survey docker, rulers, and subwindows
Fixed: memory leak caused by the transform function
Fixed: incorrect position of the merged layer
Fixed: right-clicking on the pop-up color picker hides it
Fixed: rulers showing pixels no matter which unit of measurement
Fixed: function error Split Alpha
Fixed: incorrect bounding box on gradient map
Fixed: switching page orientation in a new dialog
Improved: do a better job when searching for ffmpeg for flatpak
Improve Enhancement: improve performance when calculating the filters of your nearest neighbors
Usability: improve the contrast using the checkboxes in the pen settings and selected brushes
Fixed: allowed to transform group layers and improve logic for layers that cannot be converted
Fixed: background color is lost after merging
Improvement: remember last used directory for import / export of labels
Improvement: improved refresh rate of the canvas when moving vector objects
Fixed crash brush motor in rapid because calculations
Fixed saver on some screens with high DPI
Improving: move the color filters on onion shell of the combo box for facilitate switching
Fixed: crash when too quick start drawing after changing the opacity
Fixed: data loss when adding multiple retention frames via the context menu
Fixed: copying the correct image cache when cloning a layer
Fixed: Show only a warning about an Intel graphics card in Windows
Text: changed "Laun
About Portable Version:
The portable version from the developer, works without installation in the system.
DOWNLOAD LINKS :
Code: Tout sélectionner

https://rapidgator.net/file/a9c5f4d228eca21b0b2068c5bff81998/Krita.4.2.1.part1.rar.html
https://rapidgator.net/file/1d99bd393641df5d534ad003334110e2/Krita.4.2.1.part2.rar.html
https://rapidgator.net/file/5896776dd75f48449abb4542659479cc/Krita.4.2.1.part3.rar.html

http://nitroflare.com/view/1D17C7529608A0F/Krita.4.2.1.part1.rar
http://nitroflare.com/view/30E5F43C82B44BE/Krita.4.2.1.part2.rar
http://nitroflare.com/view/F342DCE8EAA4598/Krita.4.2.1.part3.rar

https://uploadgig.com/file/download/C0acb2861a413a7a/Krita.4.2.1.part1.rar
https://uploadgig.com/file/download/d23b14f29B9E9c2A/Krita.4.2.1.part2.rar
https://uploadgig.com/file/download/9A6da654Ef005611/Krita.4.2.1.part3.rar